So most of you probably know by now that I got married two weeks ago. Apparently, even though weddings are freaking expensive anyway, it's customary for the bride and groom to get each other gifts (even though there are plenty of other gift-giving occasions in my opinion, but I digress). Sometimes we do surprises when it comes to gifts, sometimes not. Mike told me he wanted a banjolele, so I ordered it and had it shipped to his parents' house and on the night of our wedding (well, at 2:00am, after the after-party ), he presented me with a necklace. I ooh-ed and aah-ed for the appropriate amount of time...and then asked if he kept the receipt (not the first time this has happened with jewelry). He, knowing me, had made sure he could do a full return, which we did when I didn't see anything else in the store that I liked. There wasn't anything in the mall stores I liked and the artsy place downtown was closed for the evening, so we agreed that we'd look around Aruba during our honeymoon and if there wasn't anything there, I'd go see what he'd looked at at the artsy place.
Well. Little did we know that fine jewelry is apparently a VERY BIG DEAL in Aruba (and some other parts of the Caribbean, I've been told). I can't even tell you how many blocks and blocks of jewelry stores there were in the downtown area, each promising a bigger discount than their competitor. (For what I wound up getting, it was appraised at more than twice what we paid.) I tried on this gorgeous emerald/diamond ring in the first store we went into (which was actually at our resort), but it was about twice what Mike had originally spent. We talked about splitting the cost of it, but as it was early on in our trip, I decided to think it over and look around some more. I tried on a few more that were sort of similar (and less expensive) in another store, but didn't like them nearly as much.
We took the bus downtown a few days later and started going through the dozens of jewelry stores and honestly, my eyes started to glaze over after a while and everything started to look the same. Nothing was really grabbing me, and I started to accept that nothing was going to compare with that first ring I saw. We were near the end of the strip and had walked around the fourth store from the end or so and Mike was actually on his way out when I saw a display of rainbow sapphires. I'd sort of looked at some rainbow sapphire pieces in other stores, but not too closely as most of them were way too big and clunky for me (I'm a delicate fucking flower, dammit!). I stopped and examined the display more closely.
Sort of hidden near the middle was a small pendant with a cluster of sapphires (all in different colors). It was pretty and unique and I called Mike back from the door so he could take a look. While I waited for him, I looked at it some more and THAT'S WHEN IT HIT ME.
*drumroll*
It was shaped like the Alisa III!
The saleswoman was already getting it out of the case for me at that point, and Mike said he thought it looked like a flower, but I chose to save my revelation for when we were out of the store (and of course, he rolled his eyes at me, as expected ). I tried it on and it was absolutely perfect. And with the chain, it came to the exact amount that Mike had paid for the original necklace that we returned. Clearly it was meant to be!
So I am now the very happy owner of a sapphire Alisa III pendant. Since it'll go with everything, it'll probably even replace my current every-day necklace and I can proudly display my secret nerdery everywhere I go. I was too lazy to go get my camera, so pardon my crappy webcam pictures, but you can get the general idea.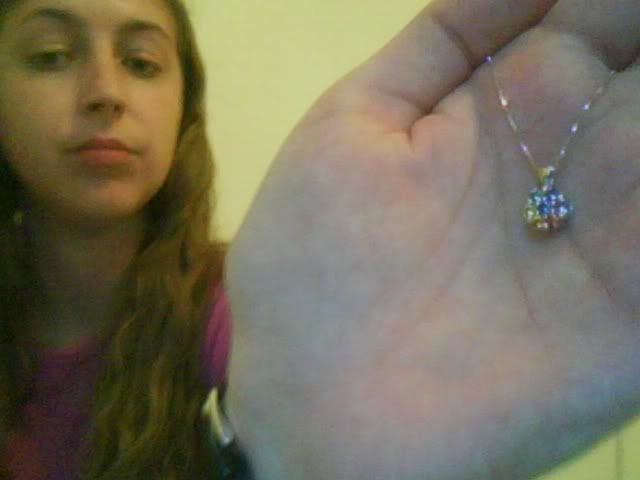 See! Even the passageways are there!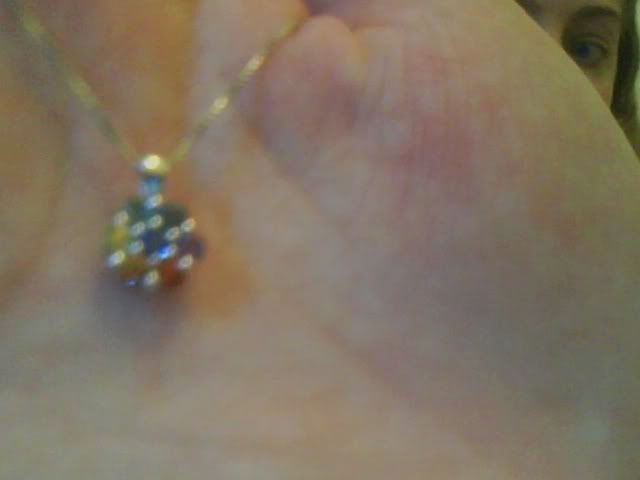 While I love my necklace very much, I did wind up getting a couple rings for myself. One of them has a rainbow topaz; when I wear my hair in a high ponytail, it's totally going to be my Power Topaz. You won't get it without a fight!